[This article was originally published on the Department of Paediatrics webpage]
Every day in the UK, 12 children and young people will be diagnosed with cancer. Of those 12, two will not survive. Here at Paediatrics, our research group, led by Professor Anindita (Andi) Roy focuses on studying study prenatal B lymphopoiesis in order to understand the origins of childhood leukaemia.
Recently, our Childhood Leukaemia Research Group have been on a mission to help raise awareness and support the ongoing cause to help those affected by the disease. They have rolled up their sleeves and help spread the word about the fantastic work they are doing.
Lab Tour with the Azaylia Foundation
Last month, the group welcomed the Azaylia Foundation on a site visit, and lab tour. Professor Andi Roy is a Trustee of the foundation whose mission is to advance early diagnosis and new treatment availability in the UK, while simultaneously supporting children fighting cancer by helping them access treatment not covered by the NHS.
At The John Radcliffe Children's Hospital, the AZ foundation were greeted by Professor Georg Hollander and Professor Roy for a lunchtime discussion. This was perfect opportunity for the founders of AZ, Ashley Cain and Safiyya Vorajee after losing their 8-month-old "little lion" Azaylia Diamond Cain to AML (acute myeloid leukaemia) in April 2021, to share their journey as trailblazers in fighting childhood cancer and the inspiring work they do to change lives. It was also incredibly productive to hear from the researchers behind the trials, who continue to develop new treatments and cures, to share their insight into how the landscape of treatment can evolve to improve survival rates.
With the Azaylia Foundation now equipped with a clearer understanding of the future of curing Childhood Leukaemia, they were then taken on a lab tour in the MRC Molecular Haematology Unit Weatherall Institute of Molecular Medicine. The research team walked them through the equipment, test tubes, centrifuges, and pipettes. Laughter and giggles filled the laboratory as they got hands on, donning lab coats and goggles. It was the perfect ending to an educational and productive day.
Childhood Leukaemia team take on 'Muck You' challenge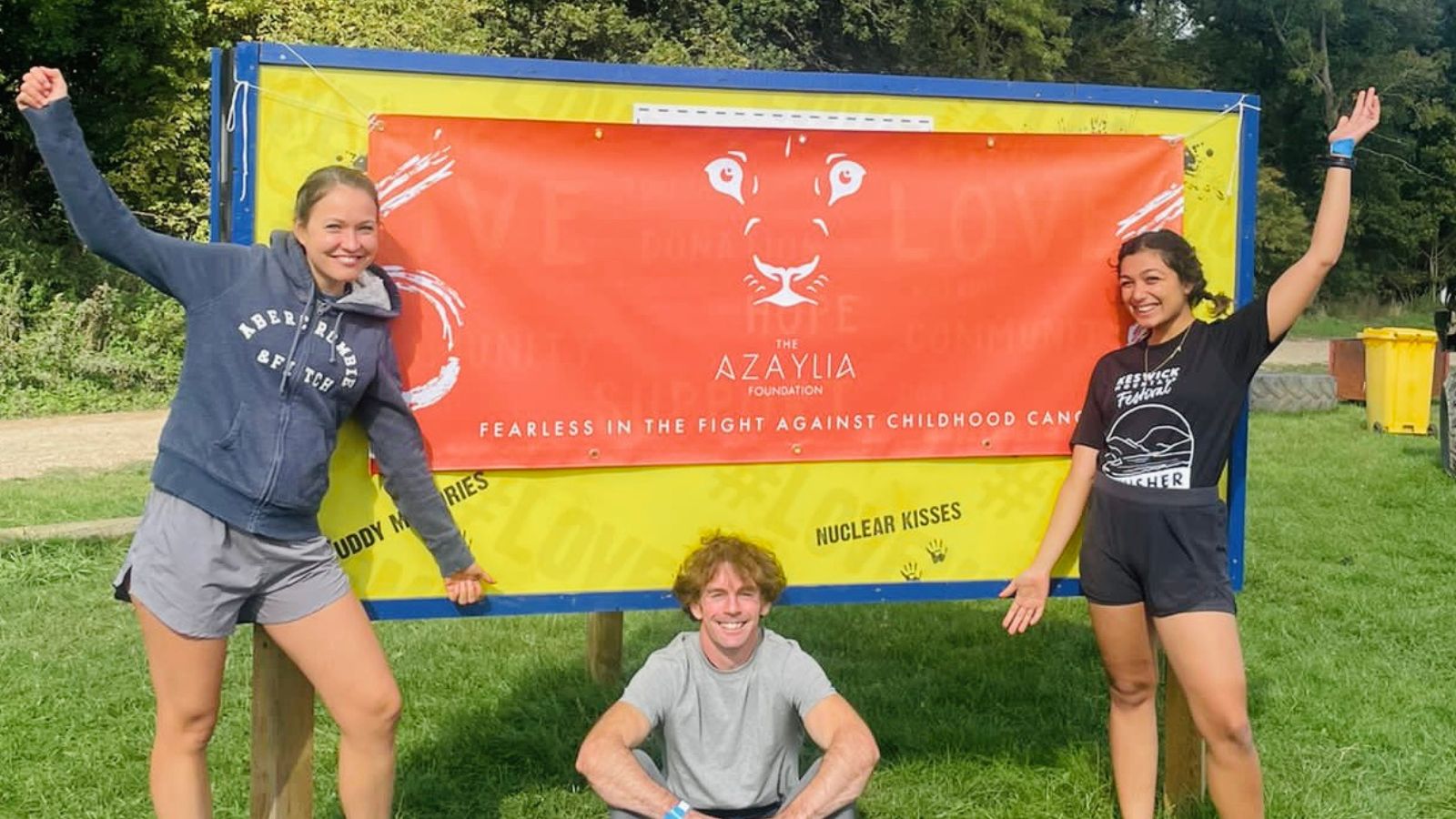 On Saturday 24th September, the Childhood Leukaemia Research Group took on the Azaylia Foundation's 'Muck You' Childhood Cancer challenge. This fundraising event was not your 'bog' standard obstacle course. The team (Arundhati Wuppalapti, Thomas Jackson and Patricia Lein) found themselves waist deep in mud, running, climbing and crawling their way through the various obstacles on water and on land. This was a truly rewarding and very mucky way raising vital funds for children fighting cancer. 
If you would like to donate towards the AZ's cause support via the GoFundMe page.
Infant leukaemia research in the Childhood Leukaemia Research Group Animation
For Childhood Cancer Awareness Month (September), the group have produced an animation video explaining the research they do and how it might advance understanding and treatment of infant leukaemia. This fun project was led by Marcela Mansur.
Funding acknowledgement for video production: NIHR Oxford Biomedical Research Centre and Oxford Centre for Haematology.